Sonny Stitt Biography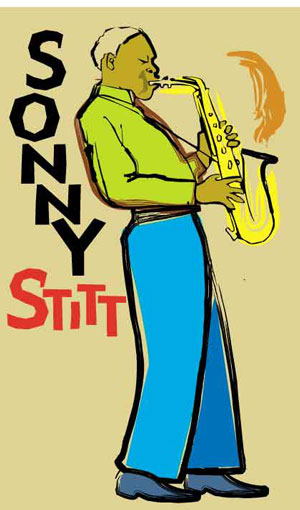 The Sonny Stitt Biography is a great example that when a dude is posessed with the "jazz mojo" you just can't stop him from playing! Sonny Stitt was that kind of cat!
Sonny Stitt Biography starts with Edward "Sonny" Stitt; (February 2, 1924 – July 22, 1982) was an American jazz saxophonist. He was a quintessential saxophonist of the bebop idiom.
He was also one of the most prolific saxophonists, recording over 100 records in his lifetime. He was nicknamed the "Lone Wolf" by jazz critic Dan Morgenstern, due to his relentless touring and his devotion to jazz.
Stitt was born in Boston, Massachusetts, and grew up in Saginaw, Michigan. Stitt had a musical background; his father taught music, his brother was a classically trained pianist, and his mother was a piano teacher.
His earliest recordings were from 1945, with Stan Getz and Dizzy Gillespie. He had also experienced playing in some swing bands, though he mainly played in bop bands. Stitt featured in Tiny Bradshaw's big band in the early forties.
Stitt played alto saxophone in Billy Eckstine's big band alongside future bop pioneers Dexter Gordon and Gene Ammons from 1945 until 1949, when he started to play tenor saxophone more frequently. Later on, he notably played with Gene Ammons and Bud Powell.
Stitt spent time in a Lexington prison between 1948-49 on account of selling narcotics. Alot of dudes got caught up in "the life"... some got burned, some got off, and some got creative!
Stitt, when playing tenor saxophone, seemed to break free from some of the criticism that he was apeing jazz genius Charlie Parker's style.
When alto saxophonist Gene Quill was criticised for playing too similar to Parker once by a jazz writer he retorted, "You try imitating Charlie Parker!" Indeed, Stitt began to develop a far more distinctive sound on tenor.
But the cat was restless, and always on the move!
He played with other bop musicians Bud Powell and Eddie "Lockjaw" Davis, a fellow tenor with a distinctly tough tone in comparison to Stitt, in the 1950s and recorded several albums for the burgeoning Prestige Records label as well as for Argo, Verve and Roost.
Stitt's playing is said to be at its zenith on these now rare records. Stitt experimented with Afro-Cuban jazz in the late 1950s, and the results can be heard on his recordings for Roost and Verve, on which he teamed up with Thad Jones and Chick Corea for Latin versions of such standards as "Autumn Leaves."
Stitt joined Miles Davis briefly in 1960, and his sole performance with the 1960 quintet is on the record Live at Stockholm, which featured Wynton Kelly, Jimmy Cobb and Paul Chambers. Stitt wanted more and could sit still with Miles.. so he did what he always did drink!
However, Miles fired him due to the excessive drinking habit he had developed, and replaced him with fellow tenor saxophonist Hank Mobley. Stitt, later in the 1960s paid homage to one of his main influences, Charlie Parker, on the seminal cut "Stitt Plays Bird", which features Jim Hall on guitar.
He recorded a number of memorable records with his friend and fellow saxophonist Gene Ammons. The records recorded by these two saxophonists are regarded by many as some of both Ammons and Stitt's best work, thus the Ammons/Stitt partnership went down in posterity of the best duelling partnerships in jazz, alongside Zoot Sims & Al Cohn, and Johnny Griffin with Eddie "Lockjaw" Davis.
Stitt would venture into soul jazz, and he recorded with fellow tenor great Booker Ervin in 1964 on the enjoyable Soul People album. Stitt would also record with Duke Ellington alumnus Paul Gonsalves during the 1960's.
In the 1970s, Stitt slowed his recording output, though not by much and in 1972, he produced another classic, Tune Up, which was and still is regarded by many jazz critics, such as Scott Yanow, as his definitive record.
Indeed, his fiery and ebullient soloing was quite reminiscent of his earlier playing. Stitt was one of the first jazz musicians to experiment with an electric saxophone (the instrument was called a Varitone), as heard on the album Just The Way It Was - Live At The Left Bank, recorded in 1971 and released in 2000.
Stitt, to his credit, never slowed down, joining the Giants of Jazz (which included Art Blakey, Dizzy Gillespie and Thelonious Monk) on some albums for the Mercury Records label, and recording sessions for Cobblestone and other labels. His last recordings were made in Japan. Sadly in 1982, Stitt suffered a heart attack, and he died on July 22.
Although his playing was at first heavily inspired by Charlie Parker and Lester Young, Stitt eventually developed his own style, one which influenced John Coltrane. Stitt was especially effective with blues and with ballad pieces such as "Skylark".
When we think of "Jazz Cats", we must always remember the great ones who were not put on pedestals but who were in the "background". These were the "soldiers of jazz" who kept their playing quality high even if they were not on everyone's list of "Best in Jazz"!



Back to Sonny Stitt Biography and other Jazz Cats!