Life Of Coleman Hawkins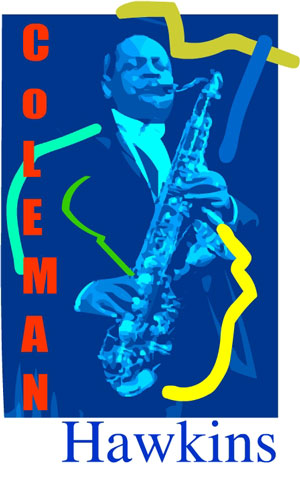 Life of Coleman Hawkins is a story of freedom. Coleman Hawkins was a Jazz originator who developed a freedom of playing that other jazz musicians imitated.

Coleman Hawkins created a smooth improvisational style of playing. This cat was one cool dude!
This cat brought the tenor saxaphone into jazz and made it respected!
He is commonly regarded as the first important and influential jazz musician to use the instrument there were some tenor players before him, but the instrument was not an acknowledged jazz horn.
While "The Hawk" is most strongly associated with the swing music and big band era, he began playing professionally in the early 1920s and was important in the development of bebop in the 1940s. He continued to be influenced by the avant-garde jazz of the 1950s and '60s.
Miles Davis once said: "When I heard Hawk I learned to play ballads."
The brother, always seemed to be around up and coming jazz greats; Hawkins directly influenced many bebop performers, and later in his career, recorded or performed with such adventurous musicians as Sonny Rollins, who considered him his main influence, and John Coltrane.
He appears on the Thelonious Monk with John Coltrane (Riverside) record. In 1960 he recorded on Max Roach's We Insist! - Freedom Now suite.
The cat was getting up there in age, but he still ran around and inspired the "young lions"!
Back to life of coleman hawkins and Biography Information