Coleman Hawkins Biography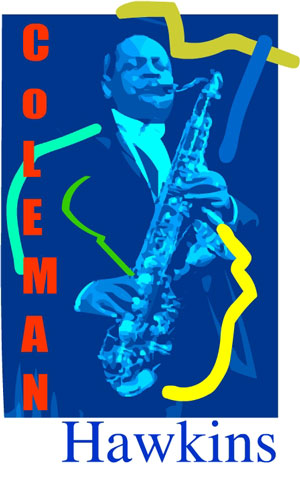 Coleman Hawkins Fine Art Print



The Coleman Hawkins Biography shows us how a unique way of playing the horn made jazz an "artists" music style!
The cat was cool player... it's that simple! A master of the tenor sax, Coleman Hawkins was one of the most important jazz figures of the 20th Century. The Coleman Hawkins Biography also shows how his unusual sense of improvisation allowed him to reach heights of expressionism that few other artists of his era had reached.
Hawkins' solo on his 1939 version of ''Body and Soul'' is considered a masterpiece and a true classic of American music. Nicknamed both ''Hawk'' and ''Bean,'' he was also one of the few musicians of the golden jazz age to make the transition to be-bop.The dude was the innovator of improvisation on the tenor sax!
Hawkins studied piano and cello as a child. It seems that the greatest jazz cats studied at an early age the classics... as before they learned the rules to break em baby! You dig?
He took up the tenor saxophone at age nine and was performing for school dances by the time he was twelve. Growing up in Chicago and attending college in Topeka, Kansas, Hawkins wound up in Kansas City in 1921 playing for a theater orchestra. Mamie Smith heard him perform one evening in 1922 and offered him a spot in her Jazz Hounds. Hawkins traveled with the group to New York, where he made his first recordings, then across country to California and back to New York again.
Hawkins left the Jazz Hounds in mid-1923 and worked freelance around the New York area until joining Fletcher Henderson in 1924. He had previously worked with the bandleader during his earlier stay in the city. Hawkins stayed with Henderson for ten years, making many recordings and attracting worldwide attention. Hawkins left Henderson in 1934 when a planned tour of England fell through.
Hawkins felt it was time to move on and contacted English bandleader Jack Hylton. Hylton brought him to England to play with his orchestra. Hawkins stayed behind in continental Europe after an extensive Hylton tour there ended.
For the next four years the cat played and recorded with many European and expatriate American jazz greats, including a now famous 1937 session with Benny Carter and Django Reinhardt. As usual the Europeans loved the jazz dude and he loved them!
Hawkins returned to England in March of 1939 and to New York in July of that same year. American audiences had heard little of his European recordings and were generally unaware of his talent.
He formed a nine-piece outfit with which he recorded his famous version of ''Body and Soul.'' The song became a huge hit and Hawkins was voted Tenor Sax of the Year by Downbeat magazine.
With that success Hawkins decided to form his own big band. He lost interest in the orchestra, though, after only a year and disbanded it in 1941. He then resumed working with smaller groups and began to take an interest in be-bop.
In 1944 he hired Thelonious Monk and Dizzy Gillespie as part of his quartet. He also worked with a young Miles Davis. The man new talent and he wanted to play with talent... it helped keep him on his toes!
From 1946 on Hawkins' was dividing his time between working with his small groups in New York, touring with Jazz at the Philharmonic, and touring in Europe.
By 1950 the innovations of younger bop musicians had made Hawkins' style seem outdated. In the early 1950s he made a more complete transition to be-bop, working with Roy Eldridge throughout most of the decade.
By the late 1950s he was in demand once again, playing numerous jazz festivals and recording with such artists as Thelonious Monk, Max Roach, John Coltrane, and Duke Ellington.
Hawkins battled alcoholism throughout his life, spending his last two years struggling with constant illness. It seems alot of these cats were under all kinds of ppressure and the dudes wanted to stay creative, but perhaps it's not so easy with the demands... who knows? He passed away in 1969 from liver disease.



Back to Coleman Hawkins Biography and other Jazz Cats!