Life Of Sonny Rollins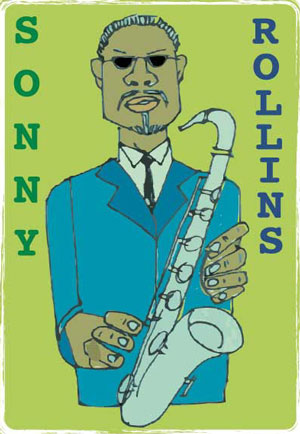 Life of Sonny Rollins shows how a musician with a single visin can survive all kinds of changes inmusic.. Sonny Rollins is a Jazz survivor!
Sonny Rollins is an American jazz tenor saxophonist. Rollins' long, prolific career began at the age of 11, and he was playing with piano legend Thelonious Monk before reaching the age of 20.
Rollins is still touring and recording today, having outlived most of his contemporaries such as John Coltrane, Miles Davis, Max Roach, and Art Blakey, all performers with whom he recorded.
In 1950, Rollins was arrested for armed robbery and given a sentence of three years. He spent 10 months in Rikers Island jail before he was released on parole.
But the dude was still going in the wrong direction...In 1952 he was arrested for violating the terms of his parole by using heroin. Rollins was assigned to what was then the USA's only assistance for drug addicts: "Narco", "The Farm", aka Federal Medical Center, Lexington.
There he was a volunteer for a then experimental Methadone therapy and was able to 'kick'- or endure an opiate withdrawal. Rollins himself initially feared sobriety would impair his musicianship- until he went on to greater success.
Like alot of Jazz cats back in the day, they thought drugs made them play better... especiall seeing how Charlie "Bird" Parker soared!
In 1957 he pioneered the use of bass and drums (without piano) as accompaniment for his saxophone solos. This texture came to be known as "strolling".
In 1958 Rollins recorded another landmark piece for saxophone, bass and drums trio: The Freedom Suite His original sleeve notes said:
"How ironic that the Negro, who more than any other people can claim America's culture as his own, is being persecuted and repressed; that the Negro, who has exemplified the humanities in his very existence, is being rewarded with inhumanity."
This cat Rollins remains one of the most adventurous musicians around. Each album he records differs radically from the previous one. Rollins explores Latin rhythms, tackled the avant-garde.
Rollins' most famous appearance to rock music fans was his appearance on the 1981 Rolling Stones album Tattoo You, on which he plays saxophone on "Slave", "Waiting on a Friend" and possibly "Neighbours".
In addition to the Stones album, Rollins has another link to rock fans. The Blue Note cover art to his Sonny Rollins Vol. 2 set was replicated by Joe Jackson for his 1984 A&M album Body and Soul, which prominently features sax and trumpet.
The dude is just too cool!




Back to Life Of Sonny Rollins and Biography Information