Sonny Rollins Biography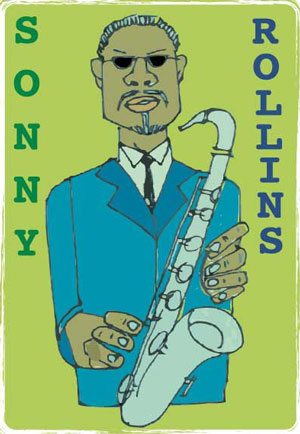 Sonny Rollins Biography shows us that when a cat has been there from the beginning and lasted through the years at a high quality of playing... you got to give him the utmost credit. Sonny Rollins is that kind of jazz cat!
When you read the Sonny Rollins Biography, you will see that Sonny Rollins will go down in history as not only the single most enduring tenor saxophonist of the bebop and hard bop era, but also the greatest contemporary jazz saxophonist of them all.
His fluid and harmonically innovative ideas, effortless manner, and easily identifiable and accessible sound have influenced generations of performers, but have also fueled the notion that mainstream jazz music can be widely enjoyed, recognized, and proliferated.
Born Theodore Walter Rollins in New York City on September 7, 1929, he had an older brother who played violin. At age nine he took up piano lessons but discontinued them, took up the alto saxophone in high school, and switched to tenor after high school, doing local engagements.
In 1948 he recorded with vocalist Babs Gonzales, then Bud Powell and Fats Navarro, and his first composition, "Audubon," was recorded by J.J. Johnson. Soon thereafter, Rollins made the rounds quickly with groups led by Art Blakey, Tadd Dameron, Chicago drummer Ike Day, and Miles Davis in 1951, followed by his own recordings with Kenny Drew, Kenny Dorham, and Thelonious Monk.
The dude was around all the "lions of jazz" and he held his own and continues to shine baby!
In 1956 Rollins made his biggest move, joining the famous ensemble of Max Roach and Clifford Brown, then formed his own legendary pianoless trio with bassist Wilbur Ware or Donald Bailey and drummer Elvin Jones or Pete La Roca in 1957, doing recorded sessions at the Village Vanguard.
Awards came from Down Beat and Playboy magazines, and recordings were done mainly for the Prestige and Riverside labels, but also for Verve, Blue Note, Columbia, and Contemporary Records, all coinciding with the steadily rising star of Rollins.
Rollins was on a role, he could play anything and make it his own... and he had the looks to go with his style... the dude was so cool!
Pivotal albums such as Tenor Madness (with John Coltrane), Saxophone Colossus (with longstanding partner Tommy Flanagan), and Way Out West (with Ray Brown and Shelly Manne), and collaborations with the Modern Jazz Quartet, Clark Terry, and Sonny Clark firmly established Rollins as a bona fide superstar. He also acquired the nickname "Newk" for his facial resemblance to Brooklyn/Los Angeles Dodgers pitcher Don Newcombe.
But between 1959 and 1961 he sought a less superficial, more spiritual path to the rat race society of the times, visiting Japan and India, studying yoga and Zen.
He left the music business until 1962, when he returned with the groundbreaking and in many ways revolutionary recording The Bridge with guitarist Jim Hall for the RCA Victor/Bluebird label.
Rollins struck up a working relationship with trumpeter Don Cherry; did a handful of innovative LPs for the RCA Victor, MGM/Metro Jazz, and Impulse! labels; did one record with his hero Coleman Hawkins; and left the scene again in 1968.
When the cat wasn't "feelin it" he left to regroup.... he alwya came back stronger and with an edge... the cat was like a feline.. 9 Lives baby!
By 1971 he came back with a renewed sense of vigor and pride, and put out a string of successful records for the Milestone label that bridged the gap between the contemporary and fusion jazz of the time, the most memorable being his live date from the 1974 Montreux Jazz Festival, The Cutting Edge.
Merging jazz with calypso, light funk, and post-bop, the career of Rollins not only was revived, but thrived from then onward. He was a member of the touring Milestone Jazz Stars in 1978 with McCoy Tyner and Ron Carter, and gained momentum as a touring headliner and festival showstopper.
His finest Milestone recordings of the second half of his career include Easy Living, Don't Stop the Carnival, G-Man, Old Flames, Plus Three, Global Warming, This Is What I Do, and Without a Song: The 9/11 Concert.
He has worked extensively with road and recording bands that have included such artists as electric bass guitarist Bob Cranshaw; trombonist Clifton Anderson; pianists Tommy Flanagan and Stephen Scott; keyboardist Mark Soskin; guitarists Bobby Broom and Jerome Harris; percussionist Kimati Dinizulu; and drummers Jack DeJohnette, Perry Wilson, Steve Jordan, and Al Foster.
Rollins formed his own record label, Doxy, through which he issued the CD Sonny, Please in 2006. Well into his eighth decade of life, Rollins continued to perform worldwide.
You gotta give it to the cat! When most of his peers died from drugs and drinking, Rollins survived and thrived! God bless him!



Back to Sonny Rollins Biography and other Jazz Cats!