Life Of Nina Simone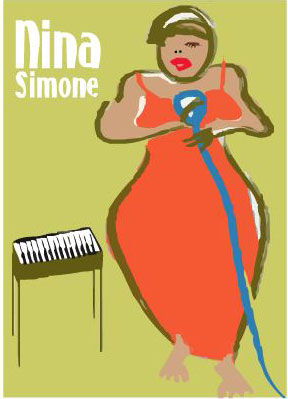 Life of Nina Simone is an exciting story of a Jazz "Diva" who was more than just Jazz. This soul sister left a mark on music that is undeniable... can you dig it!?
Nina Simone was a fifteen-time Grammy Award-nominated American singer, songwriter, pianist, arranger and civil rights activist.
Although she disliked being categorized, Simone is generally classified as a jazz musician. Simone originally wanted to become a classical pianist, but her work covers a variety of musical styles besides her classical basis, such as jazz, soul, folk, R&B, gospel, and pop music.
Her vocal style is characterized by intense passion, a loose vibrato, and a slightly androgynous timbre, in part due to her unusually low vocal range which veered between the alto and tenor ranges.
This lady did not concern her self with "vocal tradidtion" she was about gettting the emotions out.. a true singer just sings baby!
Sometimes known as the High Priestess of Soul, she paid great attention to the musical expression of emotions. Within one album or concert she could fluctuate between exuberant happiness or tragic melancholy.
These fluctuations also characterized her own personality and personal life, worsened by bipolar disorder with which she was diagnosed in the mid-1960s, but was kept secret until 2004.
Her music and message made a strong and lasting impact on African-American culture. You can tell by the singers who try to cop her flavor but still come up as posers... nobody can take the mantle of this mamma. Know what I'm talking about?
Nina Simone was bold with her demand for control over her music because she was indifferent about having a recording contract. She would keep this attitude towards the record industry for most of her career.




Back to Life Of Nina Simone and Biography Information