Nina Simone Biography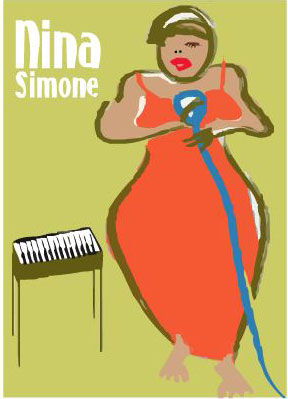 Nina Simone Biography presents how Nina Simone was born Eunice Kathleen Waymon in 1933 in North Carolina, the sixth of seven children in a poor family. She began playing the piano at age 4 and was classically trained, attending the Juilliard School in New York for one year.
We like to think these cats were just born with the gift of music...but when you follow the Nina Simone Biography, so see one thing clearly... THATS A BIG LIE! These cats studied and worked at their craft.. and the parents deserve alot of credit to get these kids into learning music. Especially since times were TERRIBLE for black folks back then!
She had hoped to attend the prestigious Curtis Institute of Music in Philadelphia, but was rejected — one of many disappointments she would attribute to racism. What do you think? The girl was "head strong" at a young age and I'm sure no white music school would be abe to deal with the DIVA!
Simone turned to singing jazz and popular music as a way to make money, performing in nightclubs in Philadelphia and Atlantic City, N.J. In the late 1950s Simone recorded her first tracks, including "Plain Gold Ring" and "Don't Smoke in Bed." But she gained fame in 1959 with her recording of "I Loves You Porgy," from the George and Ira Gershwin Broadway musical, "Porgy & Bess." Soon Nina Simone the nightclub singer became Nina Simone the star, performing at Town Hall, Carnegie Hall and the Newport Jazz Festival.
There was a time when Nina Simone was dubbed "the high priestess of soul," a term she hated, not only because it smacked of marketing hype but because it tried to put her in a box she'd never have fit in comfortably. The lady new how the media worked and she was not going to let them "groom" her into a caricature!
While Simone certainly invested all her work with soul, she blurred boundaries and jumped genres, embracing jazz, pop, blues, spirituals, folk, French chansons, African song and the works of contemporary songwriters like Bob Dylan, Leonard Cohen, the Bee Gees and the Beatles --Simone's reading of "Here Comes the Sun" remains a transcendent moment of elegance and joy.
Simone was also one of the first African American artists to embrace traditional African garb, adding regal bearing to her already dramatic presence. The lady got down with AFRICA people! She was down with the style before it got "hip"! She was radical in dress and mindset!
Simone was a crucial voice in the civil rights era, when some of her most striking work addressed the horrors and injustices attending blacks in the South, incendiary tracts like "Mississippi Goddam" (inspired by the 1963 Birmingham church bombing that killed four black girls), "Old Jim Crow" and "Backlash Blues" (based on a poem written for Simone by Langston Hughes).
Like jazz artists Abbey Lincoln, Max Roach and Charles Mingus, Simone used her populist platform to shine a bright light into ugly corners of American society. She was in good company since those were the most uncompromising jazz cats at the time... you go girl!
It is ironic that Simone's first and only American hit came early in her career. The 1957 recording of George Gershwin's "I Loves You Porgy" went Top 20, the only Top 40 entry of a career that covered 45 years. Confirming the vagaries of pop culture, Simone did enjoy a top-five single in England in 1987, when a three-decade-old recording of "My Baby Just Cares for Me" -- from the same "Little Girl Blue" album that included "Porgy" -- became a hit after being used in a television commercial.
What was always evident in Simone's style was a powerful contralto that expressed her highly personal interpretations of varied materials, subtly shaded by her assured piano underscoring. You can hear Nina's classical training come out on many of her recordings. She initially trained to be a classical pianist, but found there to be few opportunities in the field for African Americans in the 1950s.
The girl new that she had to spread her wings and not let the powers that be define her and put her in a prison.. that prison for her was called "jazz"!
It was then that in order to support her further musical education, she made a living accompanying classical singers. When an opportunity to work in an Atlantic City lounge cropped up in 1954, it was on the condition that she sang as well as played.
That's when Eunice Waymon became Nina Simone, out of fear of offending her handyman father and, perhaps more important, her Methodist minister mother. Up to that point, Simone had never sung in public.
Simone started off exploring the Great American Songbook, but also expanded her repertoire with stately spirituals like "He's Got the Whole World in His Hands" and reconstituted folk standards like "House of the Rising Sun" and "Black Is the Color of My True Love's Hair." Whatever the material, Simone offered it on her terms.
That's what made her so special! The sister made whatever song she sun "HER SONG" and we were just along for the ride!
Her recording career started in the mid-'50s on the Bethlehem label, and even though she was never a particularly "commercial" presence, she was prolific: The online site All Music Guide lists almost 100 albums (including compilations). Many of the best are live albums that capture the artist's charisma, tenderness and fervor -- as well as the occasional firestorm of anger and frustration.
She was the kind of singer that was better s=heard live... she had a way of "casting a pell" on you.. a way that spoke of ancient voices and religious foundation... it was spiritual and kind of like VOODOO!
Because Simone was so productive, particularly in the first two decades of her career, she could be annoyingly erratic and inconsistent on record: her best-ofs are often the best representation of less-than-stellar efforts, but there's usually at least one gem on every album she recorded.
By the late '60s, Nina Simone had grown weary of American racial politics and frustrated with the level of her commercial success. She relocated to Europe, where she felt more appreciated as both an artist and a black person.
She lived at various times in Switzerland, France and England, as well as Liberia and Barbados. As usual we in the states did not respect our jazz artists so they were more appreciated away from "home".. and Nina was one of thos who left here to be loved out there!
When Simone performed at Lisner Auditorium in 1992, it was her first Washington appearance in 15 years; her last was in June of 2001, when she filled Constitution Hall with fans who excused the singer's time-worn voice and apparent health problems and enthusiastically applauded her indomitable spirit and proud history.
When we say "DIVA OF JAZZ" Nina is the face of that DIVA!



Back to Nina Simone Biography and other Jazz Cats!