Life Of Lester Young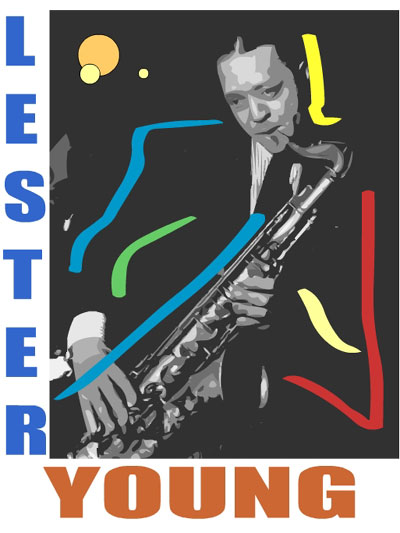 Life of Lester Young shows how a true original jazz cat created a style of playing that changed jazz forever.
Lester Young was nicknamed 'Prez', was an American jazz tenor saxophonist and clarinetist. He was also known to play the trumpet, violin, and drums. The brother had so much style and was a suave, debonair dude... a true "Hipster", you dig?
Coming to prominence with the band of Count Basie, Young is remembered as one of the finest, most influential players on his instrument, playing with a cool tone and sophisticated harmonies.
Since the days of Joe "King" Oliver, jazz cats always had a nickname for the coolest players, lofty titles...Bessie Smith graduated from "Queen of the Blues" to "Empress of the Blues," Benny Goodman was proclaimed "King of Swing", there was a "Duke" Ellington, a "Count" Basie, and Lester Young was dubbed Prez (short for president, a title given to him by Billie Holiday. "We called my mother 'the Duchess,'" Holiday said in a 1959 interview, "so he [Lester Young] named me 'Lady Day' and I called him 'Prez'--we were the royal family."
He also became a jazz legend, inventing or popularizing much of the hipster ethos which came to be associated with the music. From his playing to his fashion to his slang, prez for a trendsetter baby!
He dressed distinctively, especially in his trademark pork pie hat. When he played saxophone, particularly in his younger days, he would sometimes hold the horn off to the right side at a near-horizontal angle, like a flute.
Lester Young's solo on "Lester Leaps In" at the 1949 JATP concert at Carnegie Hall stands as perhaps one of the greatest solos by any jazz musician ever. The line-up for that concert included Charlie Parker and Roy Eldridge. How you like them apples? Lester stole the show from cool cat Bird!




Back to Life Of Lester Young and Biography Information