Life of Ella Fitzgerald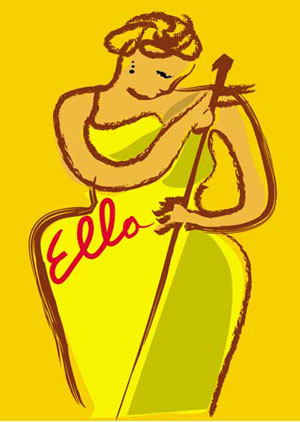 The life of Ella Fitzgerald shows the beginning of a true style of Jazz singing. Ella was some kind of classy lady and she invented SCAT SINGING.
Ella Fitzgerald is considered one of the most influential jazz vocalists of the 20th century.
With a vocal range spanning three octaves, she was noted for her purity of tone, phrasing and intonation, and a "horn-like" improvisational ability, particularly in her scat singing.
With three octave range, you wouldn't want "sister" to yell at you! And she could yell!
Over a recording career that lasted 57 years, she was the winner of 13 Grammy Awards, and was awarded the National Medal of Art by Ronald Reagan and the Presidential Medal of Freedom by George H. W. Bush.
Ella was known for singing with big bands as well, and she helped the "Big Band" sound get recognition with her wonderful originality.
Ella was also a popular Bebop singer and started the trend to sing "scat" with "bop". But this smooth lady did not want to confined to singing only Bebop!
She wanted to spread her wings and sing other music so she got into Cole Porter tunes! And then she soared even higher!
Fitzgerald later described the period as strategically crucial, saying,"I had gotten to the point where I was only singing be-bop. I thought be-bop was 'it', and that all I had to do was go some place and sing bop. But it finally got to the point where I had no place to sing. I realized then that there was more to music than bop".




Back to Life of Ella Fitzgerald and Biography Information