Ella Fitzgerald Biography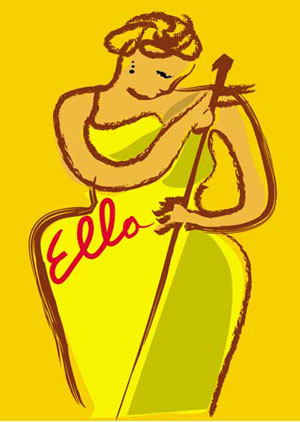 Ella Fitzgerald Fine Art Print



Ella Fitzgerald Biography introduces us to one of the most popular jazz vocalists of all-time. This jazz sister had a voice that was unmistakable! The girl could carry a tune with that stunning voice baby!
Examples from her first recordings with the Chick Webb Orchestra to her last performances in the early 1990s she thrilled and Ella Fitzgerald Biography shows how she impressed audiences around the world with her vocal talents.
The Ella Fitzgerald Biography also shows how she was also instrumental in developing the style of singing known as ''scat''! Imagine that pfolks! Maybe Ella invented RAPPING! She was an original who made scat an art form!
Ella Fitzgerald Biography over the years worked with some of the most famous names in show business, earning her the nickname ''First Lady of Song.''
Ella Fitzgerald Biography starts with Fitzgerald was born in 1917 in Newport News, Virginia. Her father and mother separated soon after her birth, and she and her mother moved to Yonkers, New York. Her mother later moved in with a boyfriend, whom Fitzgerald came to regard as a stepfather. After Fitzgerald's mother was killed in a car wreck she stayed with her stepfather briefly before moving in with an aunt. Shortly afterwards her stepfather died.
Fitzgerald had difficulty coping with the changes in her life. Her grades in school fell, and she began to get into trouble with the law. She was eventually sent to a reform school but soon escaped and went out on her own. The girl had a wild streak and she was an "old soul"! With all the thinkgs she encountered at a young age is it any wonder?
As a youth Fitzgerald had enjoyed singing and dancing. In 1934 she entered an amateur night contest at the Apollo Theater. Her vocal talents impressed saxophonist and future jazz great Benny Carter, who was in the audience.
He took a special interest in the young singer and began to help her along with her career. A year later she had gained a spot on the bill at the Harlem Opera House, where Chick Webb frontman Bardu Ali heard one of her performances. Webb had been under pressure from his manager to replace his older male vocalist with a younger personality.
Though reluctant at first to hire someone as young as Fitzgerald, Webb and his manager couldn't refuse after hearing her audition. Webb also became very fond of her, and he and his wife adopted her.
God bless the child... that cat Webb was a life savious... and he brought a wonderful new voice to jazz!
Proving to be the star attraction of Webb's orchestra, Fitzgerald recorded dozens of songs with the group, including the wildly popular, ''A-Tisket, A-Tasket,'' a tune for which she wrote the lyrics. She was also in great demand by other orchestra leaders who often borrowed her to use on recordings or to fill in for an absent vocalist.
When Webb died in 1939 Fitzgerald took over his orchestra. It was alternately called ''Ella Fitzgerald's Orchestra'' and ''Ella Fitzgerald and Her Famous Band.'' Within a few years, however, she had grown tired of being a bandleader and went solo.
Ella had that independence at a young age and she would not let any music contain her.. the girl had to move baby! You dig?
During the rest of the 1940s and 1950s she toured with various bands and with a combo led by her husband, Ray Brown. She remained extremely popular throughout her career and recorded regularly through the 1950s and 1960s. She also appeared many times on television and continued to perform up until the mid-1980s when her health began to fail.
No matter, the girl always seems to look happy and smiling when she was singing... even in poor health the Diva shines through!
In 1986 Fitzgerald underwent heart surgery and was diagnosed with diabetes. She refused, though, to slow down, despite her condition, and continued to maintain a busy schedule of appearances. This took a further toll on her health. In the early 1990s she was forced to have her lower legs amputated. She rarely performed thereafter. Ella Fitzgerald passed away in 1996.
The strength of Ella's music and personality comes through in her music if you take the time to dig it and let the "vapors" pass over you! Dig the music this girl made for us to enjoy!



Back to Ella Fitzgerald Biography and other Jazz Cats!