Life Of Chet Baker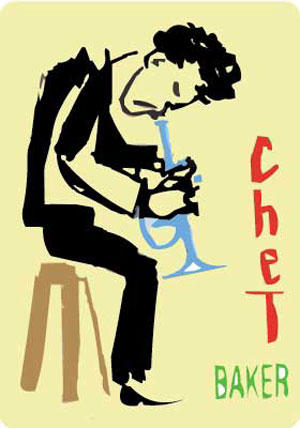 The Life of Chet Baker is the story of seduction and tragedy. This was one handsome cat, who alot of white folks loved and got turned on to jazz because of him... He had movie star looks, and a nice smooth sound.

The cat got strung out on drugs and wasted a brilliant career. What he left us with is a legend like Hollywood James Dean.
Chet Baker was popular at creating a relaxed, even melancholy music, Baker rose to fame as a leading name in cool jazz in the 1950s. Baker's good looks and, intimate singing voice established him as a promising name in pop music as well.
The chicks really dug him. And the pretty boys liked his style. Chet was COOL.
But his success was badly slowed down by drug addiction, particularly in the 1960s, when he was imprisoned. The dude just could not quit heroin!
Alot of Jazz cats were doing drugs back in those days but some did not know when to slow down or quit... Bird and Chet fit that mold...
Chet Baker mounted a successful comeback in the '70s, but died in 1988 after falling from a hotel window in Holland... Holland, the land of "tolerance" when it comes to doing drugs. Probably not a good place for someone with a habit like Chets'.




Back to Life Of Chet Baker and Biography Information