Chet Baker Biography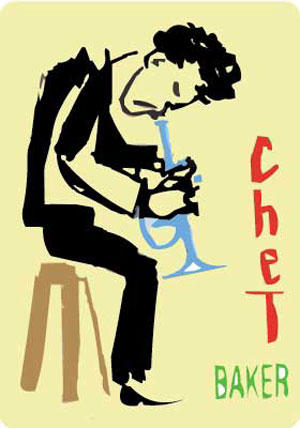 Chet Baker Biography introduces us to a tragic figure in jazz who introduced a whole new audience to the music!
Born Chesney Henry Baker, Jr. in Yale, Oklahoma on December 23, 1929, Chet Baker began his musical career as a child, singing at amateur competitions and in a church choir. That's right folks... even the white cats back then were into the church choir to get into music! Y'all thought it was for black dudes only?
Chet Baker Biography shows how His father brought home a trombone for little Chet to play, then replaced it with a trumpet when the larger instrument proved too much for him. His first formal training in music occurred at Glendale Junior High School, but Baker would play mostly by ear for the rest of his life. The cat had a gift for sweet notes and he knew it
In 1946, at the age of 16, he dropped out of high school and enlisted in the army. It seems that drop out and jazz go hand in hand... He was sent to Berlin, Germany, where he played in the 298th Army Band. After his discharge in 1948, he enrolled at El Camino College in Los Angeles, where he studied theory and harmony while playing in jazz clubs He quit college in the middle of his second year.
I always told you that these jazz cats learned the rules to break the rules!
He re-enlisted in the army in 1950 and became a member of the Sixth Army Band at the Presidio in San Francisco, but began sitting in at clubs like Bop City and the Blackhawk in the city, and soon obtained a second discharge to pursue a career as a professional musician. Hanging with all those black dudes rubbed off on Chet and he wanted to "get down".
Baker played initially in Vido Musso's band, and soon after with Stan Getz. His break came quickly, when, in the spring of 1952, he was chosen at an audition to play a series of dates with Charlie Parker, making his debut with the alto saxophonist at the Tiffany Club in Los Angeles on May 29, 1952. Hanging with Bird no doubt opened Chet's eyes to the world of hard drugs...
That summer, he began playing in the Gerry Mulligan Quartet, a pianoless group featuring baritone sax, trumpet, bass, and drums. The group attracted attention during an engagement at the Haig and through recordings on newly formed Pacific Jazz Records.
The Gerry Mulligan Quartet lasted for less than a year, ending when its leader went to jail on a drug charge in June of 1953. Baker soon formed his own quartet, which initially featured Russ Freeman on piano, Red Mitchell on bass, and Bobby White on drums. Baker won a number of polls (including DownBeat and Metronome) in the next few years.
His good looks helped him win over alot of the ladies as well!
In 1954, Pacific Jazz released "Chet Baker Sings," an album that increased his popularity but alienated traditional jazz fans; he would continue to sing for the rest of his career. Alot of true "jazz-heads" did not get down with Baker singing... they thought jazz musicians should just play their instruments!
By 1955, he had made his acting debut in the film Hell's Horizon. He declined an offer of a studio contract and toured Europe from September 1955 to April 1956. Chet was able to branch out into singing, acting, playing like no other jazz musician... he was "cool"!
When he returned to the U.S., he formed a quintet that featured saxophonist Phil Urso and pianist Bobby Timmons. Contrary to his reputation for relaxed, laid-back playing, Baker turned to more of a bop style with this group, which recorded the album "Chet Baker & Crew" for Pacific Jazz in July 1956.
Baker toured the U.S. in February 1957 with the Birdland All Stars and took a group to Europe later that year. He returned to Europe to stay in 1959, settling in Italy, where he acted in the film Urlatori Alla Sbarra. In 1960, a fictionalized film biography of his life, "All the Fine Young Cannibals," appeared with Robert Wagner in the starring role of Chad Bixby.
Baker had become addicted to heroin in the 1950s and had been incarcerated briefly on several occasions, but his drug habit only began to interfere with his career significantly in the 1960s.
He was arrested in Italy in the summer of 1960 and spent almost a year and a half in jail. It is a shame that another fine jazz cat could not tame his urge to do hard drugs!
Upon his release he recorded "Chet Is Back" (since reissued as "The Italian Sessions" and "Somewhere Over the Rainbow") in 1962. Later in the year, he was arrested in West Germany and expelled to Switzerland, then France, later moving to England in August 1962 to appear as himself in the 1963 film "The Stolen Hours."
He was deported from England to France because of a drug offense in March 1963. He lived in Paris and performed there and in Spain over the next year, but after being arrested again in West Germany, he was deported back to the U.S.
In and out of prison did not stop the cat from doing his JAZZ music and doing his DRUGS...He returned to America after five years in Europe on March 3, 1964, and played primarily in New York and Los Angeles during the mid-'60s, having switched temporarily from trumpet to flügelhorn. During this period he recorded several excellent recordings for the Prestige label. In the summer of 1966, he suffered a severe beating in San Francisco that was related to his drug addiction.
In the late 1960s Baker's teeth had deteriorated to the point where he was fitted with dentures and had to retrain his embouchure (it is commonly misstated that the beating in 1966 left him with no teeth). By the early 1970s he had stopped playing altogether.
Although he remained an addict, Baker began to control his herion addiction by taking methadone, and eventually mounted a comeback that culminated in a prominent New York club engagement in November 1973 and a reunion concert with Gerry Mulligan at Carnegie Hall in November 1974. By the mid-'70s, Baker returned to Europe and spent the rest of his life performing there primarily, with occasional trips to Japan and periods back in the U.S., though he had no permanent residence.
In 1987, photographer/filmmaker Bruce Weber began work on a documentary film about Baker. The following year, Baker died in a fall from a hotel window in Amsterdam after taking heroin and cocaine. Weber's film, "Let's Get Lost," premiered in September 1988 to critical acclaim and earned an Academy Award nomination. In 1997, Baker's unfinished autobiography was published under the title As Though I Had Wings: The Lost Memoir and the book was optioned by Miramax for a film adaptation.
Baker's constant need for cash to supply his drug addiction led him to accept many recording offers he should probably have avoided, while his unreliability prevented record companies from signing him to long-term commitments. As a result, his discography is extensive and unfortunately uneven. Another sad casualty in the creative history of JAZZ.



Back to Chet Baker Biography and other Jazz Cats!