Herbie Hancock Biography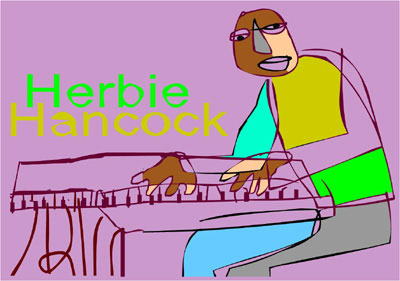 Herbie Hancock Fiine Art Print



Herbie Hancock Biography: Born April 12, 1940, in Chicago, IL; son of Wayman Edward and Winnie (Griffin) Hancock; married Gudrun Meixner, August 31, 1986. Education: Attended Grinnell College, 1956-60 Addresses: Addresses: Record company-Hancock Records, 825 Eighth Ave., New York, NY 10019.
Herbie Hancock Biography show that throughout much of his career, Herbie Hancock was one of the most controversial and revered jazz artists of his time, as was his mentor and friend, the late Miles Davis. Herbie was a cat that didn't get into the drugs and the dude stayed fresh throughout his years in music.
Herbie Hancock Biography shows us how his career spanned more than four decades. Besides being a virtuoso pianist and keyboard player, he explored many forms of music, as well as the technological gadgetry that accompanied them.
His chameleon ways of changing musical direction to broaden contemporary styles excited and surprised his peers and fans alike. But it came naturally to Hancock, whose boundless creativity formed the music he loved so deeply.
The dude played classical at an early age and learned the rules so he could shatter them, and then pick up the pieces to create new music... the cat is an innovator!
Herbert Jeffrey Hancock was born on April 12, 1940, in Chicago, Illinois to Wayman and Winnie Griffin Hancock. His father was a grocery store clerk, while his mother worked as a secretary. Both parents instilled a love and appreciation for music in all of their children. When Herbie Hancock was a toddler, he was always happy if a piano was near. The little boy was down with the music from a young age and it was in his blood!
His love for the piano grew even deeper when his parents bought him an old upright piano for 25 dollars.
Instead of getting involved in sports or running the back streets of Chicago with his school friends, Hancock opted to stay home to practice the piano. He used his extra time to pursue his growing interest in science and electronics.
This is the sign that the cat was "different".. backin the days we would call him "Dexter" or "corny".. and make fun of his glsses calling him "four eyes"!
However, his interest in music never caused his schoolwork to suffer. His inexhaustible discipline allowed him to skip two grades. During elementary school, his teachers and his mother encouraged him to listen to opera on the radio, which helped his understanding of both music and the piano.
At the age of 11, Hancock won a scholastic award for his concert performance of a Mozart concerto with the Chicago Symphony Orchestra.
Growing up in Chicago, Hancock was surrounded by the blues, as it echoed through the city during his high school years. Yet, Hancock didn't gravitate toward rhythm and blues, but instead, was moved by the more complex jazz styles.
When he heard a classmate play an improvisational piece at a talent show, he was so taken by its freedom that he became devoted to learning all about it. As Lynn Norment noted in Ebony Magazine, "He closeted himself for hours alone with Oscar Peterson and George Shearing records, committed their notes to paper and then reproduced them. This tedious exercise led to his ability to analyze and dissect harmonic structures, rhythmic patterns, and choral voicings."
The cat was a scientist on another level!
After graduating high school, Hancock enrolled at Grinnell College, in Iowa, in 1956 to study engineering. While there, he learned the fundamentals of electronics, which later translated into his own music in the 1970s.
Hancock went on to change his major to music composition and graduated in 1960. He returned to Chicago, and worked with such artists as Coleman Hawkins, Donald Byrd, Dexter Gordon, and Freddie Hubbard.
The following winter, a treacherous snow storm prevented the pianist for Donald Byrd's group from getting to Chicago where they were scheduled to play. Hancock stepped in for the missing pianist. Byrd was impressed by Hancock's performance, and took him under his wing. Byrd took him to New York and introduced him to the jazz establishment, which laid the groundwork for Hancock's 1962 debut album, Takin' Off, which included musicians like Dexter Gordon and Freddie Hubbard.
A year later, his song "Watermelon Man," was covered by Mongo Santamaria, and subsequently recorded over the years by more than 200 artists. The dude had a worldwide appeal and his music shw it!
In 1963, Donald Byrd suggested that Hancock contact Miles Davis. The Davis Group had a philosophy that maintained an environment where the musicians had the freedom to musically express themselves. Miles was a cat who loved to be challenged by younger dudes and he got inspiration from them!
His meeting with Davis proved very productive. Hancock, Davis, Wayne Shorter, Ron Carter, and Tony Williams, became known as one of the most influential groups in jazz history. During his time off from The Davis Group, Hancock performed with such jazz greats as Phil Woods, Oliver Nelson, Wes Montgomery, Quincy Jones, and Sonny Rollins.
The dude was resourceful though...he did not let jazz lock him in a box. When you gotta eat an artist paints apples.. if you know what I mean... can you dig?
In the late 1960s, the once prominent jazz audiences began to thin out as rock and roll gained popularity. To keep working, Hancock wrote commercial jingles for such companies as Chevrolet, Standard Oil, and Eastern Airlines. He also began recording for soundtracks and composing film scores for such films as Blow Up. He also wrote the "Fat Albert Rotunda" for comedian Bill Cosby's television special, Hey, Hey, Hey, It's Fat Albert.
How cool is that? The cat wrote music for one of the "hippest" cartoons ever created... now thats what I call coool!
By 1968, Hancock had left the Davis Group to pursue a solo career. He started playing the electric piano and exploring the technology of electronic instruments and recording equipment. His next album, Mwandishi, became one of his first breakthroughs in music technology.
In 1973, his work with the Headhunters delved into even more uncharted musical territory. During that time, he continued to play acoustic jazz from time to time with the Davis quintet alumni, while continuing to explore the possibilities of instrumental music through electronics.
The cat always seemed to be stretching the jazz boundaries. He never seemed to rest on his butt!
In 1983, he moved into a completely different direction with his number-one pop hit, "Rockit." Not only did "Rockit" win a Grammy award for Hancock, but the song raised some eyebrows throughout the industry, primarily because it was one of the few instrumental songs to soar to the top of the charts.
What was so cool about the music of "Rockit" was the sound! The dude was mixing electronics and hip hop and jazz all together in a wonderful funky kind of collage!
Even Hancock was surprised that "Rockit" became such a big hit, and wanted to make a video in order to expose his music to the kids who watched MTV. He hired the video duo Godley and Creme (who had done hit videos for The Police and Duran Duran) to help him.
Hancock recalled the video-making process to Peter Occhiogrosso in Playboy, "I told Godley and Creme, 'Look, don't even have me on it, don't have any black people on it-just make it as white as any video they might show by Led Zeppelin or anybody." They laughed.
They thought I was joking, but I wanted people to hear the music." Hancock did end up having a cameo, but only on a television screen within the video. When the video for "Rockit" hit the MTV airwaves, it rocketed into heavy rotation. Hancock had jumped another hurdle.
Aside from superstars such as Michael Jackson and Lionel Richie, MTV rarely even played videos by black artists in the early 1980s, much less had them in heavy rotation...so you see; the dude played the music establishment in a creative way!
Throughout his career, Hancock broke through many musical and social barriers without looking back. He attributed his successes and power of positive thinking to his belief in Buddhism, which he began studying in the 1970s.
Hancock practiced a sect of Buddhism called Nichiren Shoshu, which involved reciting the prayers of the Lotus Sutra, and chanting the words "Nam-Myoho-Renge-Kyo" (the law of cause and effect through sound). Hancock credited his Buddhist practice for giving him freedom.
He explained the feeling to Eric Levin in People as, "not being afraid of things that may happen in your life. It's knowing that you can turn all the poison into medicine." He said his Buddhist practice didn't necessarily change his nature, but simply reinforced what he already had. The dude know he was strong on the inside and let nothing confine his creativity!
Hancock has been the quintessential board crosser. He's gone from straight-ahead jazz to opera, from bebop to fusion, from jingles to dance music, from film scores to hip-hop-all while moving between acoustic piano, synthesizers, and emulators. Just when people thought Hancock had settled into the genre of contemporary music, he took another turn in 1992 with a Miles Davis tribute tour.
It took Hancock three years to finally process the passing of his friend and mentor, who once said, "Herbie was the step after Bud Powell and Thelonious Monk, and I haven't heard anybody yet who has come after that time."
In the 1990s, Hancock had his fingers on a few other things besides the piano. Continuing to follow the advancing technology, Hancock worked on multimedia projects and cutting-edge Internet audio productions.
Herbie always dug the newest gadgets with music and he was a natural with making the new "flavors" work for him!
His past also returned to the forefront, as some of his older works were re-released, including The Complete Blue Note Sixties Sessions, a six-CD collection of Hancock's early influential albums. Columbia Records also reissued An Evening With Herbie Hancock & Chick Corea, a duet recording from 1978.
Herbie Hancock's recordings in the 1990s stayed true to his chameleon reputation. In 1995, he released The New Standard, a translation of songs by artists such as Prince and Peter Gabriel into a jazz style.
In 1997, Hancock teamed up with saxophonist Wayne Shorter, who played with Hancock in The Davis Group, for a collaborative album called 1+1 released on Verve Records. Hancock and Shorter, also a practicing Buddhist, had continued their friendship since their days with Miles Davis.
The duo followed up the release with a tour that lasted into 1998. Later that year, Hancock reformed the Headhunters to release Return of the Headhunters on his own label, Hancock Records. He also released a tribute album to George Gershwin called Gershwin's World, with guest appearances by Joni Mitchell, Stevie Wonder, Chick Corea, Kathleen Battle, and Wayne Shorter.
For most of his life, Herbie Hancock let his musical style follow whatever creativity he felt at the time, regardless of genre, then combined it with own his interest in growing technologies. The cat just grasps whatever concept he needs to et his ideas across!
"I want to approach living my life to the fullest," Hancock told Don Heckman in Down Beat. "Music isn't any different.... That means the more I learn and the more I am able to experience, the more tools I have to create possibilities of expression that, perhaps, I haven't experienced before. That's what makes me want to go on living and go on striving. That's the best of what life has to offer."
Spoken like a true revolutionary JAZZ CAT!



Back to Herbie Hancock Biography and other Jazz Cats!