Miles Davis Biography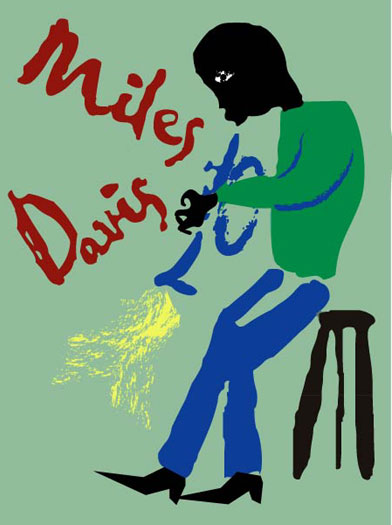 Miles Davis Fine Art Print


Is Miles Davis the Best Music for SEX?


Miles Davis Biography show how this cat Miles Davis was one of the greatest and most important figures in jazz history. He was born in a well-to-do family in East St. Louis. Miles became a local music star and toured locally with Billy Eckstine's band while he was in high school. That's how cool the dude was!
Miles Davis Biography traces how he moved to New York telling his folks that he was attending the Julliard School of Music. The cats' real intentions were to hook up with Charlie Parker and Dizzy Gillespie! Sure, they drank and partied, smoked and made alot of noise, but they also got down and made some cool music together!
Miles learned from Bird and Diz and became the trumpet player for Charlie Parker's group for nearly 3 years. Miles witnessed a lot of strange things being in Birds group, and did drugs and made great music Hanging around Parker gave Miles his introduction to Heroin...
Miles first attempt at leading a group came in 1949 and was the first of many occurrences in which the dude would take jazz in a new direction. The cat was bored with "following" others, he wanted to LEAD!
Along with arranger Gil Evans, he created a nonet (9 members) that used non-traditional instruments in a jazz setting, such as French horn and Tuba.
Even back then the cat was shaking up the jazz mix!
He invented a more subtle, yet still challenging style that became known as "cool jazz."
This style influenced a large group of musicians who played mostly on the west coast and further explored this style. The white cats on the west coast really dug cool jazz and made it their own... The recordings were put out by Capitol records and released under the name The Birth of the Cool.
Miles came up with the phrase "cool".. can you dig it?
The group featured Lee Konitz, Gerry Mulligan, and Max Roach, among others. But Miles made some people angry!: he brought in musicians regardless of race. He just did not give a hoot! He once said he'd give a guy with green skin and "polka-dotted breath" a job, as long as they could play sax as well as Lee Konitz.
After spending 4 years fighting a heroin addiction, he conquered it. The cat got the monkey off his back and really started to hit his stride!
After a stunning performance of Thelonious Monk's classic 'Round Midnight at the 1955 Newport Jazz Festival, Miles became a hot ticket. Everybody new who the cat was and wanted to hear more from him.... He put together a permanent quintet that featured John Coltrane, Red Garland, "Philly Joe" Jones, and Paul Chambers.
Miles had a gift for hearing the music in his head, and putting together a band of incredible musicians whose contrasting styles could result in meeting the end result he was looking for. It was as though the cat was a painter and used other talented musicians to "color" the music the way he saw it in his head!
In the late 50s, his groups popularized modal jazz and changed the direction of jazz again. He made 2 more classics with the Sextet during this time, Milestones and Kind of Blue.
The album "Kind of Blue" is still the top selling Jazz album year after year! it has sold more copies worldwide all together!
Thats shocking to me daddy-o! Can't any of the younger cats come up with something "cool" enough in the current jazz system to replace that album? Alot of babies were conceived with that album on in the background.. if you know what I'm saying... can you dig it!?
After this time, most of his group left to form their own groups. This was a usual theme during Miles' career--he brought in the best up-and-coming jazz cats, and after playing in his band and getting established, they formed their own groups.
Among the bandleaders to have come from Miles band include: John Coltrane, Cannonball Adderly, Red Garland, "Philly" Jo Jones, Bill Evans, Wayne Shorter, Joe Zawinul, (Shorter and Zawinul would go on to form the fusion group Weather Report) Keith Jarrett, Tony Williams, Herbie Hancock, John McGlaughlin, Chick Corea, John Scofield, Kenny Garrett, Mike Stern, and Bob Berg.
During this time, Miles and Gil Evans collaborated again and made another unique record, Sketches of Spain, in which Miles plays Spanish Flamenco music backed by an orchestra. Miles and Evans were like two peas in a pod they were so groovy together! They definately felt each other and created something beautiful!.
After experimenting with different groups for 3 years, Miles, who was in his late 30s (old by jazz cat standards), fused his group with young players in order to bring in fresh ideas. The dude knew that young blood was the way to stay young!
In 1963, he put together his 2nd legendary quintet: Wayne Shorter, Herbie Hancock, Ron Carter, and 16 year old drumming protege Tony Williams. For 5 years, this group pushed the limits of freedom and made some fiery jazz!
In 1968, Miles brought in Joe Zawinul as a 2nd keyboardist and around this time, started experimenting with electric instruments. He made the classic In a Silent Way and a year later, he added British guitarist John McGloughlin and replaced Tony Williams (who left to form his own band) with Jack DeJohnette, and he took jazz in yet a whole new direction with the record Bitches Brew, in which he fused Rock Music with jazz and went heavily into electric music.
The Miles Davis album Bitches Brew...This album was off the hook baby! It made cats all over the world see how the direction of Rock and fusion were going to shape modern music!
Rumour has it that Miles and Jimi Hendrix were planning on working together before Jimi passed away. It's a real tregedy that we will never know if that is true... these two cats would be perfect working together!
In the early 1970s, Miles kept experimenting with the electric instruments and fusing more funk into his music. In 1976, a combination of bad health, cocaine use, and lack of inspiration caused Miles to go into a 5-year retirement.
The dude was on cocaine again and being miserable... perhaps the music at the time was not inspiring to him (disco was all the rage) latr on conquered his cocaine habit, received new inspiration and returned in 1981 and made a series of records with pop artists... and even Prince!
Miles Davis did not stop creating... the cat kept pushing music, he did not rest on his butt and play his old music. He started experimenting more with synthesizers and using studio techniques in his recordings. He won a series of Grammy Awards during the 80's.
Miles Davis died in 1991.
Few trumpet players could match the quality of his tone and no one has changed jazz as many times or spawned as many jazz leaders as Miles Davis. The cat lived an xciting, colorful life... he could be a mean arrogant son of a gun, he abused some of his ladies and friends, he did alot of drugs... he was his own man!




Back to Miles Davis Biography and other Jazz Cats!