Life Of Stan Getz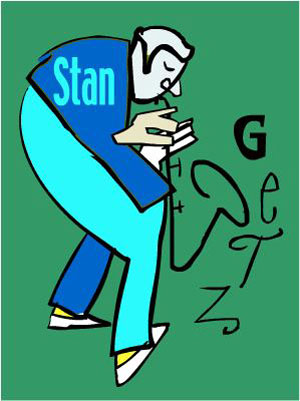 The life of Stan Getz show a quality horn playing dude who always seemed "fresh". Stan Getz had a beautiful sound that came from his horn!
The man could swing and bop with the best of them! He also was a "cool jazz" cat who mad the cool jazz sound popular. He played the saxaphone EFFORTLESSLY!
Getz was known as "The Sound" because of his warm, lyrical tone, Getz's prime influence was the wispy, mellow tone of his idol, Lester Young.
The main thing with Getz was when he got down with the Brazilian music. He became a central figure in introducing bossa nova music to the U.S. audience.
He then recorded the album Getz/Gilberto with Tom Jobim, João Gilberto and his wife, Astrud Gilberto. Their "The Girl from Ipanema" won a Grammy Award. The piece became one of the most well-known latin jazz cuts of all time.
Getz/Gilberto won two Grammys (Best Album and Best Single), besting The Beatles' A Hard Day's Night, a victory for Bossa Nova and Brazilian jazz!
But then the dude messed up when he began an affair with Astrud Gilberto. When her husband found out, he ended the relationship and they never worked together again... Getz screwed up a great opportunity to continue working with Astrud Gilberto.




Back to Life Of Stan Getz and Biography Information