Life Of Max Roach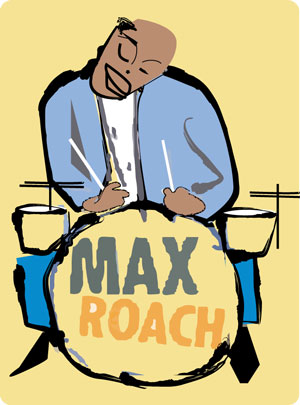 The life of Max Roach follows the trail of an honorable man who let the sound of the drum direct his mood. Max Roach is the jazz drummer who brought inspiration to jazz as a backbeat is to rock and roll!
Max Roach pioneer of bebop. Roach went on to work in many other styles of music, and is generally considered one of the most important drummers in history.
He worked with many of the greatest jazz musicians, including Dizzy Gillespie, Charlie Parker, Miles Davis, Duke Ellington, Charles Mingus, Sonny Rollins and Clifford Brown.
Roach also led his own groups. The cat also was a political musical "maverick and he made numerous musical statements relating to the civil rights movement of African-Americans.
Roach presented his music with orchestras and gospel choruses. He performed a concerto with the Boston Symphony Orchestra. He wrote for and performed with the Walter White gospel choir and the John Motley Singers.
Roach performed with dancers: the Alvin Ailey American Dance Theater, the Dianne McIntyre Dance Company, the Bill T. Jones/Arnie Zane Dance Company.
Roach surprised his fans by performing in a hip hop concert, featuring the artist-rapper Fab Five Freddy and the New York Break Dancers. The dude was not afraid to show that the drum was the back-beat of all popular music!
He expressed the insight that there was a strong kinship between the outpouring of expression of these young black artists and the art he had pursued all his life... can you dig it?
Back to Life Of Max Roach and Biography Information