Life of Louis Armstrong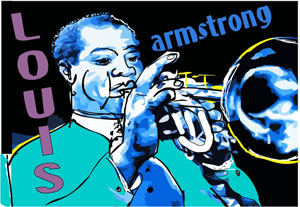 The life of Louis Armstrong is the Life of Jazz! Louis Armstrong is the "Father" of Jazz! Can you dig it? There would be no Jazz if Louis was not there... PERIOD!
Louis Armstrong was nicknamed Satchmo or Sachimo and Pops, was an American jazz trumpeter and singer.
Coming to prominence in the 20s as an innovative cornet and trumpet virtuoso, Armstrong was a foundational influence on jazz, shifting the music's focus from collective improvisation to solo performers.
With his distinctive gravelly voice, Armstrong was an influential singer, demonstrating great dexterity as an improviser, bending the lyrics and melody of a song for expressive purposes. He was also greatly skilled at scat singing, or wordless vocalizing.
The cat was so ahead of his time! "Satchmo" charismatic stage presence, and Armstrong's influence extended well beyond jazz, and by the end of his career in the '60s, he was widely regarded as a profound influence on popular music in general: critic Steve Leggett describes Armstrong as "perhaps the most important American musician of the 20th century."
As with his trumpet playing, Armstrong's vocal innovations served as a foundation stone for the art of jazz vocal interpretation.
The uniquely gritty coloration of his voice became a musical archetype that was much imitated and endlessly impersonated. His scat singing style was enriched by his matchless experience as a trumpet soloist.
We owe alot to this great man. The dude made the world a much better place and he is the father of Jazz baby! CAN YOU DIG IT?!




Back to Life of Louis Armstrong and Biography Information