Life Of Josephine Baker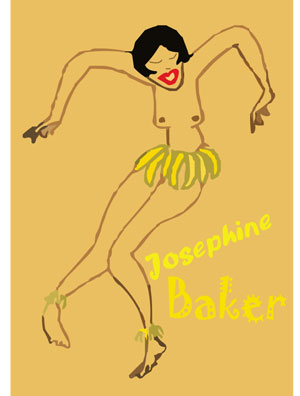 Life of Josephine Baker is a stunning story of a brave woman who defined women in jazz.
Josephine Baker was an American-born French expatriate entertainer and singer. Like alot of Jazz cats, Josephine saw that the Europeans appreciated jazz and black people more than Americans...She became a French citizen in 1937.
Most noted as a singer, Baker was a celebrated dancer in her early career. Josephine Baker was not shy in dancing nude, and the girl sho' nuff had a beautiful body!
She was given the nicknames the "Bronze Venus" or the "Black Pearl", as well as the "Créole Goddess". In France, she has always been known in the old theatrical tradition as "La Baker".
Joséphine Baker is noted for being the first female African American to star in a major motion picture, to integrate an American concert hall, and to become a world famous entertainer.
But the girl was not just an entertainer folks! She is also noted for her contributions to the Civil Rights Movement in the United States, and for being an inspiration to generations of African-American female entertainers and others.
Baker was so well known and popular with the French that even the Nazis, who occupied France during World War II, were hesitant to cause her harm.
To show her loyalty to her adopted country, she participated in the Underground, smuggling intelligence to the resistance in Portugal coded within her sheet music! She was one brave and inspiring DIVA!
Back to Life Of Josephine Baker and Biography Information