Life Of Dizzy Gillespie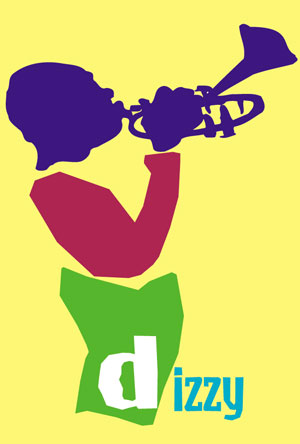 The life of Dizzy Gillespie is the story of a cat who knew where he wanted to go and stayed on point! Dizzy is one of the most important men of Jazz!
Dizzy Gillespie helped create BEBOP and was an all around "Cool Cat". Dizzy had a wonderful sense of style and humor and brought jazz all over the world.
After Louis Armstrong, I would name Dizzy as the "father of Jazz".. can you dig it?
Dizzy Gillespie was an American jazz trumpeter, bandleader, singer, and composer. He was born in Cheraw, South Carolina, the youngest of nine children. Dizzy's father was a local bandleader, so instruments were made available to Dizzy. He started to play the piano at the age of 4. Together with Charlie Parker, he was a major figure in the development of bebop and modern jazz.
Dizzy was instrumental in founding Afro-Cuban jazz. Gillespie was a trumpet virtuoso and gifted improviser, building on the virtuoso style of adding layers of harmonic complexity previously unknown in jazz.
In addition to his instrumental skills, Dizzy's beret and horn-rimmed spectacles, his scat singing, his bent horn, pouched cheeks and his light-hearted personality were essential in popularizing bebop!
The dude had an enormous impact on every subsequent trumpeter, both by the example of his playing and as a mentor to younger musicians.
The "Dizz" never got messed up on drugs like so many of the other cats back in the day. That's why he was able to stay focused and bring the "jazz Spirit" to the world!
Thank you Dizzy Gillespie!




Back to life of dizzy gillespie and Biography Information