John Coltrane Biography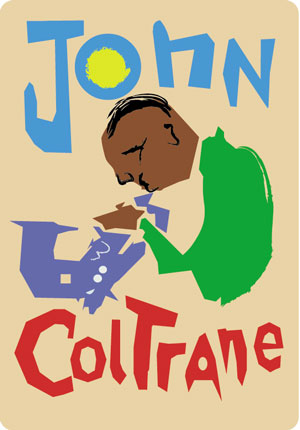 John Coltrane Fine Art Print


Is John Coltrane The Best Music For Sex?


John Coltrane Biography introduces us to a cat who always seemed to be searching…Born September 23, 1926 in Hamlet North Carolina. Died July 17, 1967 at Huntington Hospital in Long Island NY. Coltrane grew up in High Point NC, moving to Philadelphia PA in June 1943. He was inducted into the Navy in 1945, returning to civilian life in 1946.
John Coltrane Biography show someone who worked a variety of jobs through the late forties until (still an alto saxophonist) he joined Dizzy Gillespie's big band in 1949. He stayed with Gillespie through the band's breakup in May 1950 and (now on tenor saxophone) worked with Gillespie's small group until April 1951, when he returned to Philadelphia to go to school.
Coltrane was recording for awhile and he was always adventurous but the dude was mis-understood… the music of Coltrane from as early as 1946 is not really looked at as "revolutionary", his real career spans the twelve years between 1955 and 1967, during which time he reshaped modern jazz and influenced generations of other musicians. Coltrane was freelancing in Philadelphia in the summer of 1955 when he received a call from trumpeter Miles Davis. Davis, whose success during the late forties had been followed by several years of decline, was again active, and was about to form a quintet.
Miles Davis could always spot a young talented Jazz Cat, and he was great at spotting talent for his bands… He saw Coltrane and new he saw something special in the way the cat played!
Coltrane was with this first edition of the Davis group from October 1955 through April 1957 (with a few absences), a period which saw influential recordings from Davis and the first signs of Coltrane's ability. This classic First Quintet, best represented by two marathon recording sessions for Prestige in 1956, disbanded in mid-April.But Coltrane was on heroin and alcohol and was "acting up"… Miles had to let him go.
During the latter part of 1957 Coltrane worked with Thelonious Monk at New York's Five Spot, a legendary gig. He rejoined Miles in January 1958, staying until April 1960, during which time he participated in such seminal Davis sessions as Milestones and Kind Of Blue, and recorded his own influential sessions (notably Giant Steps). These are classic recordings folks! They are blueprints for the direction of modern jazz!
Coltrane's first working quartet took the stage in April 1960; pianist McCoy Tyner joined the band in mid 1960 (replacing Steve Kuhn), and Elvin Jones came on board in the fall, in time for marathon sessions for Atlantic which produced Coltrane's "hit" recording My Favorite Things.
This recording was so influential in music since it is a fantastic 14 minutes long and features Coltrane exploring in surprising ways! The cat was going way out and dangerous close to the edge…. Very thrilling!
By early 1961 Coltrane had signed with the new Impulse label; his first project was a seminal orchestral recording, the Arrica/Brass sessions. Coltrane's quartet (with Tyner, Jones and bassist Reggie Workman) was joined by multi-instrumentalist Eric Dolphy for a variety of recordings and appearances, and Dolphy joined the band permanently in September,
Dophy left the group in April 1962, and for a variety of reasons Coltrane's output during 1962 was more conservative. The year however is marked by several significant recordings (a Ballads album and a joint session with Duke Ellington).
The Crescent session from mid-1964 is notable, but the peak of Coltrane's output arguably is the prodigious amount of music recorded between December 1964 (the classic suite A Love Supreme) and November of 1965 (Meditations), including a variety of exceptional small group sessions and the "new music summit" Ascension.
The dude was on a run and was possessed with the music… a spiritual snse of trane runs into all his later musicBy January 1966 the classic John Coltrane Quartet was no more, the internal tension of Coltrane's quest for new directions having brought Tyner and Jones to depart. The last group, with Coltrane's wife Alice on piano and Rashied Ali on drums (plus bassist Jimmy Garrison) is well represented by recordings of concerts in Japan and a variety of small group sessions from early 1967




Back to John Coltrane Biography and other Jazz Cats!