Dave Brubeck Biography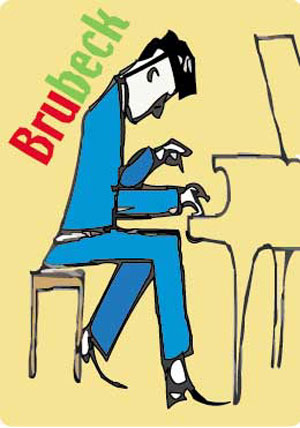 The Dave Brubeck Biography is always being updated becaus this cool jazz cat is still playing and doing gigs all over the world! This old cat is still serving great jazz music to the masses!

What a cool cat that Dave Brubeck is! As an old jazz cat, he continues to perform cool jazz and has long served as proof that creative jazz and popular success can go together. The Dave Brubeck Biography also shows us that, although critics who had championed him when he was unknown seemed to scorn him when the Dave Brubeck Quartet became a surprise success.
Some people think the dude made easy listening jazz music but thats not true! In reality Brubeck never watered down or altered his music in order to gain a wide audience. Creative booking (being one of the first groups to play regularly on college campuses) and a bit of luck resulted in great popularity, and Dave Brubeck remains one of the few household names in jazz.
From nearly the start, Brubeck enjoyed utilizing poly-rhythms and poly-tonality (playing in two keys at once). He had classical training from his mother, but fooled her for a long period by memorizing his lessons and not learning to read music! He was another cat who learned the ropes so he could "swing"... He studied music at the College of the Pacific during 1938-1942.
Brubeck led a service band in General Patton's Army during World War II and then, in 1946, he started studying at Mills College with the classical composer Darius Milhaud, who encouraged his students to play jazz. The white cats dug the jazz music and decided it was hip to learn it in college too!
During 1946-1949, Brubeck led a group mostly consisting of fellow classmates, and they recorded as the Dave Brubeck Octet; their music (released on Fantasy in 1951) still sounds advanced today, with complex time signatures and some poly-tonality. The dude was like a scientist the way he studied rythmn and came up with unique time structures!
The octet was too radical to get much work, so Brubeck formed a trio with drummer Cal Tjader (who doubled on vibes) and bassist Ron Crotty. The trio's Fantasy recordings of 1949-1951 were quite popular in the Bay Area, but the group came to an end when Brubeck hurt his back during a serious swimming accident and was put out of action for months.
Upon his return in 1951, Brubeck was persuaded by altoist Paul Desmond to make the group a quartet. Within two years, the band had become surprisingly popular. Desmond's cool-toned alto and quick wit fit in well with Brubeck's often heavy chording and experimental playing; both Brubeck and Desmond had original sounds and styles that owed little to their predecessors. The cats tore up the stage with radical music tempos and combinations!
By then, Brubeck had followed his popular series of Fantasy recordings with some big sellers on Columbia, and had appeared on the cover of Time (1954). The huge success of Paul Desmond's "Take Five" (1960) was followed by many songs played in "odd" time signatures such as 7/4 and 9/8; the high-quality soloing of the musicians kept these experiments from sounding like gimmicks. Brubeck wanted to be taken seriously so the dcat always played live music in an offbeat way He never repeated a riff the same way twice!
Dave and Iola Brubeck (his wife and lyricist) put together an anti-racism show featuring Louis Armstrong (The Real Ambassadors) which was recorded, but its only public appearance was at the Monterey Jazz Festival in the early '60s. The cat was cool with blacks and wanted the world to see how we all could get along... pretty radical idea back in those days! Can you dig it?
The Dave Brubeck Quartet constantly traveled around the world until its breakup in 1967. After some time off, during which he wrote religious works, Brubeck came back the following year with a new quartet featuring Gerry Mulligan, although he would have several reunions with Desmond before the altoist's death in 1977. Brubeck joined with his sons Darius (keyboards), Chris (electric bass and bass trombone), and Danny (drums) in Two Generations of Brubeck in the 1970s.
The Brubeck boys make grat music with their daddy and they play off each other very cool.. its a trip seeing the generations of Brubeck cats on stage together getting down!
In the early '80s, tenor saxophonist Jerry Bergonzi was in the Brubeck Quartet, and beginning in the mid-'80s, clarinetist Bill Smith (who was in the original octet) alternated with altoist Bobby Militello.
This cat Brubeck is still getting down on the piano and entertaing folks in his ripe old age! Dig it!



Back to Dave Brubeck Biography and other Jazz Cats!