Charlie Parker Biography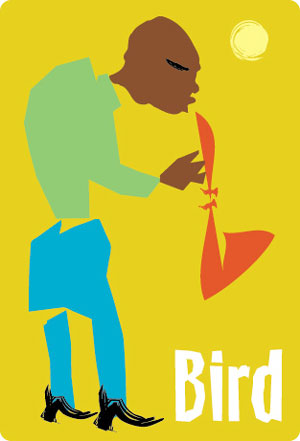 The Charlie Parker Biography introduces us to a tragic genius who changed music theory FOREVER!Perhaps the greatest young talent in jazz history, Parker was an excellent musician living in a dark, cruel world. Alot of cats would have put a gun to their heads back then, but "Bird" learned to fly!
When you follow the Charlie Parker Biography, you see that Drugs, alcohol, and devastation all influenced Parker's life, as the affected his father's. But through it all, Parker and his incredible musical ability produced many great achievements. It is not saying too much that the cat was the ultimate "party animal" in jazz!
Parker was born on August 29,1920 in Kansas City, Kansas, just about the same time jazz was being invented by a new generation of African American musicians. He was born to Charles Parker Sr., a singer and dancer on the black vaudeville circuit, and Addie Parker, a housewife. Because Parker's father was away most of the time entertaining, his only true parent was his mother.
When his father was home, the young Parker liked to listen to his father play the piano. The dude watched and learned from daddy and let it sink in... When Parker turned eight, he and his mother moved to Kansas City, Missouri. Kansas City is important in Jazz music and cats were onto somethin and the style was cool!Shortly after this move, Parker's father died in a drunken quarrel. But other than those tragedies involving his father, Parker's childhood went well. Parker received excellent grades while attending Attuck's Public School, and although he liked music, his favorite hobby was reading.
At age thirteen, he entered Lincoln High School. He was enrolled in the overcrowded high school's famous band program, and quickly pick up his first instrument, the baritone horn. Soon, Parker grew bored with the baritone and it's long, low notes, so he switched to his preferred instrument, the alto saxophone. His mother bought one for him that was in very poor shape using $45 of her salary earned by cleaning houses. That was alot of money back then! His mamma believed in the boy and we have to give her alot of credit in creating the genius in Bird!
He quickly mastered the instrument's basics and joined the "Deans of Swing." It performed at the high school dances and other school events. By fourteen, Parker knew his future would be in music.
When Parker wasn't diligently practicing, he was out at jazz clubs, picking up jazz concepts... AND PROBABLY PICKING UP BAD HABITS! Around this time, the Ruffins moved in with Parker and his mom. Fanny Ruffin, Addie Parker's dear friend, had just gone through a divorce and she needed a place to stay with her six children.
Parker got very close to the oldest daughter, Rebecca in that time. Even when Fanny Ruffin thought Parker and Rebecca's relationship was "improper" and moved the family away so they couldn't see each other, they continued to meet secretly. The cat loved the ladies and wasn't going to let his mamma get in the way! The two were married when Parker was only fifteen.
Meanwhile, Parker grew more and more dedicated to his beat up old sax. He would sometimes skip school to practice, and spent every night listening to jam sessions at jazz clubs. He even participated in one of the sessions, but humiliated himself because of his lack of knowledge in music theory. Imagine that! Bird actually became the "destroyer" of music theory later on!
That experience prompted him to spend many hours learning the different keys and the difference between major and minor. Parker practiced scales for hours and hours. By 1936, he felt ready to start his professional music career.
I hate to sound like a broken record, but the cat "learned the rules to BREAK the rules"! Can you dig it? Alot of young cats don't get it... but not everybody knows their jazz history!
Parker started out his career slowly by performing in small regional bands in Kansas City. Unfortunately, for some unknown reason, he also began doing heroine at about the same time. By 1937, Parker was hired to be a 2nd alto sax in a band belonging to Buster Smith, previously a member of the Count Basie Orchestra.
After becoming like father and son, Buster left for New York City looking for opportunities for his new band. Once there though, he decided not to return to Kansas City and his band broke up.Parker also decided to leave Kansas City to search for more and better opportunities.
So, he pawned his sax for a ride on a freight train to Chicago. Parker was not afraid to live on the "razors edge" and the cat knew he had bigger "fish to fry"!
Just before he left, his first son was born; Francis Leon Parker. After arriving in Chicago, Parker made friends with a fellow "jammer" named Goon Gardener. Goon gave Parker needed clothes, food, and a clarinet to play until he earned enough money to buy another sax.
Soon after, Parker pawned his friend's clarinet to buy a bus ticket to New York City. Bird had a bad habit of using his friends and he could really treat their trust bad... the cat just did not care!
Once in New York City, Parker found Buster and settled there for a short time. While in New York, Parker developed his own style of improvisation, using 9-13 intervals away from the melodic note. Parker's family life wasn't going nearly as well as his musical career was; in 1939, he and Rebecca divorced.
It was in 1939 when he joined the Jay McShann Orchestra. This orchestra toured all over the country. It was when the orchestra was in Wichita, Kansas that Parker made his first recordings. In 1941, the orchestra made its first record with the Decca Record Company. The tune recorded was titled "Hootie Blue" and featured Parker. After vocalists became part of the orchestra, Parker decided in August of 1942 to pursue his own career in New York City. He soon settled in New York and started playing in clubs along 52nd street. This stretch was simply known as "The Street" and ran between 5th and 7th avenues.
A year later, Parker married his second wife, Geraldine Scott. But most of his time was still devoted to music. Things didn't go well for him in terms of earning a living and his marriage suffered. When a dude is not bringing home any bread for mamma, you know it is not peaceful at home... you dig fellas?
He soon left his wife, separating instead of divorcing. As work became harder to find, Parker became more and more disturbed. He turned to heroine for relief, which made his life even more difficult. Heroin was his drug of choice and the cat would sell out his own mamma for a hit! Thats how bad the cat got strung out on it!
One day in 1946, after returning to his hotel, he caused a disturbance in the lobby and started a fire in his room. That led to his being committed to Camarillo State Hospital, a California institution for the mentally ill. Going there though was probably the best thing to ever happen to his health. He broke his dependencies on liquor and heroine, had plenty of sleep, and ate full nutritious meals.
Some of the constructive activities he participated in were leading and playing in the band at the hospital, and working in the veggie garden. He quickly gained back his health, and after six months, resumed his music career.
After returning to New York City, Parker put together his own group. It was comprised of Miles Davis (trumpet), Max Roach (drums), Duke Jordan (piano), Tommy Potter (bass), and himself on sax. He and his band worked mainly on The Street at clubs. However, in 1947, they recorded songs like "Honeysuckle Rose," "Embraceable You," and "Bird of Paradise" for the Dial and Savoy Record Companies.
On September 29, 1947, Parker was invited to perform with former band mate Dizzy Gillespie and his band at Carnegie Hall. That concert broke previous attendance records, and all who went adored the two former band mates, as they "flew" on stage.
Later that year, Parker and his band toured across the country with a Philharmonic orchestra, which lasted until the start of 1948. After the successful tour, they returned to New York City to work at the Royal Roost, a Broadway nightclub.
Through out this good time in Parker's life, he had remained involved with his wife-to-be, Doris Snyder. They married in 1948,but split up without a legal divorce less than a year later. The cat just had bad luck with women... or maybe it's the other way around!
Parker also started heroin again, and the addiction got worse after the break up. Because Parker and his music was getting more and more popular with time, young musicians began to look to heroin as the key to success.
This was not true though, and Parker made sure he set whoever thought that way straight. "Any musician who says he's playing better either on 'tea', the 'needle', or when he is 'juiced' is a plain straight liar," Parker is quoted saying for Downbeat Magazine in 1949.
May 1949 brought an invitation to Parker to perform at the 2nd annual Paris Jazz Festival. His trip also gave him new improvisation ideas of mixing jazz and classical styles. One of his early attempts at this was the recording of three albums of "Bird with Strings."
Many fans and critics didn't like this new attempt at all, but grew to appreciate it with time... The cat was ahead of his time folk... Bird made you follow him for an interesting ride. The dude was not afraid to go out of the "mainstream"!
At the same time, Parker resumed a relationship with a jazz fan he met at a club called Chan Richardson. Although they never married, Chan changed her last name to Parker and lived with him. They had two children; Pree was born in 1952, but died in 1954, and Baird who was born in 1953.
Birdland, the New York jazz club named after Parker opened in 1949. He also performed at Carnegie Hall again, but this time with his quintet for the Modern Jazz All-Star Concert later in the year.
A European tour followed in 1950, adding to his fame. He was accompanied by a group of Swedish beboppers across northern Europe. When he wasn't performing, he was partying! While in Europe, Parker was given a large amount of drugs and alcohol, and unfortunately, was unable to complete the tour because of it.
Drugs seemed to be getting Parker in to more and more trouble with time, when in 1951, New York City Police found him in possession of heroin. As a result, Parker's cabaret card was taken, leaving him in financial trouble. He had to go out of state to work for long periods of time. Having his card taken also gave him a reputation of being unreliable and unpredictable, so when he did get his card back in 1953, no clubs desired his performances.
With everything going wrong, and Murphy's Law in effect, Parker attempted suicide twice by drinking iodine in 1954. His health was deteriorating quickly, and it was only a matter of time until Parker died on March 12, 1955. He passed away after succumbing to a heart attack, pneumonia, ulcers, and cirrhosis of the liver.
Although he lacked a sense of principle, Bird is still considered one of the all-time jazz greats and has influenced many jazz musicians who followed him. The dude WAS AN ORIGINAL!!




Back to Charlie Parker Biography and other Jazz Cats!